Lush Lavender Fields
– Felt a country landscape scene with rows of blooming lavender buds –
with Laura Ricks
Course Outline
Class Chat
Getting Started: Info & Resources
Needle Felting the Background
Needle Felting the Lavender Field
Wet Felting
Needle Felting Details
Thank You & Instructor Interview
Get Your Certificate!
Enroll Today!
Lush Lavender Fields
SALE
sale ends January 1, 2024
MEMBER PRICING
About this Course
Skills Focus: Needle Felting, Wet Felting
Difficulty Level: Beginner / Intermediate
Helpful Experience to Have: Intro to needle felting, basic wet felting
Course Length: This course is equivalent to a 1.5-day in person workshop
Needle and wet felt a beautiful country landscape scene with rows of lavender buds retreating into the distant mountains, with fluffy clouds and textural foreground elements
Video Lessons: Videos are divided in to easy to digest & easy to reference segments that are available 24/7
Audio: Recorded in English
Closed Captions: English, Deutsch, Español, Español (México), Français, Italiano, Nederlands, Polski, Português, Português (Brasil), Magyar, Pусский, اللغة العربية, हिन्दी, 中文, 日本, 한국인, বাংলা
Skills you will Learn:
Compose a felted landscape scene with bright, contrasting colors that evokes a calm country day in a field of lavender
Explore using texture to create visual interest at the foreground of the scene with beautiful lavender buds
Discover Laura's tips and tricks to getting picture-perfect perspective in the receding rows of lavender
Use light needle felting prior to wet felting to avoid fiber shift
Easily blend fiber colors by hand to create smooth color transitions in the sky
Give depth to the sky, add fluffy clouds and distant mountains
Wet felt easily and effectively with a palm washboard to prevent buckling and to gain control of the felting process.(*palm washboard is optional, but Laura's preferred method for felting her pieces)
Add detail and finishing touches after wet felting to sharpen lines, enhance color and perspective of the felted landscape
Included in this course
24/7, 365 Instant access to the course streamed directly to your computer, tablet or phone
High quality video instruction divided into short, digestible lessons
Learn at your own pace and refer back to lessons at any time
Complete materials list with links to recommended supplies
BFF Creations!
Meet the Instructor: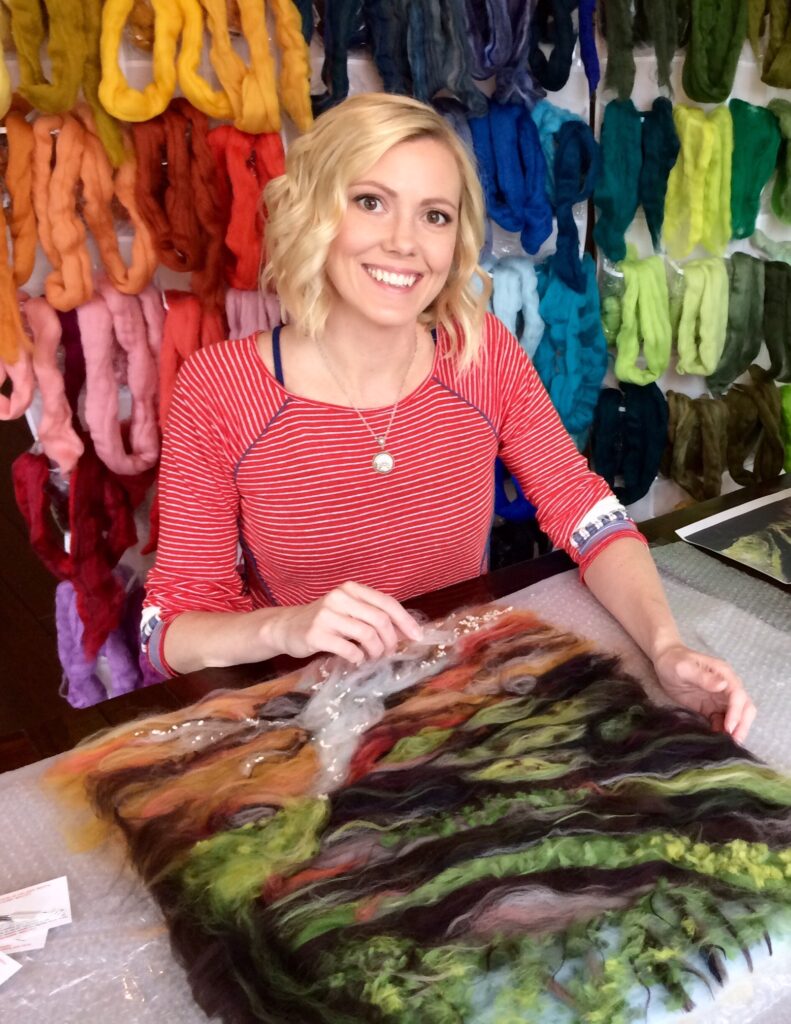 Laura Ricks