Backpack on a Ball
– Wet Felt a Durable Backpack over a Ball Resist –
with Natasha Smart
Course Outline
Class Chat
Getting Started: Info & Resources
Preparations
Pre-Make Backpack Components
Embellishment Design Layout
Backpack Layout
Felting Over a Ball Resist
Fulling and Shaping
Creating the Strap
Finishing Touches
Thank You
Vocabulary & Interview
Get Your Certificate
Enroll Today!
Backpack on a Ball
MEMBER PRICING
About this Course
Skills Focus: Wet Felting over a Ball Resist
Difficulty Level: Intermediate
Helpful Experience to Have: Wet Felting over a Resist
Course Length: This course is equivalent to a 3-day in person workshop
Wet felt a durable and beautifully embellished backpack using Natasha's expert wet felting over a ball method!
Video Lessons: Videos are divided in to easy to digest & easy to reference segments
Audio: Recorded in English
Closed Captions: English, Deutsch, Español, Español (México), Français, Italiano, Nederlands, Polski, Português, Português (Brasil), Magyar, Pусский, اللغة العربية, हिन्दी, 中文, 日本, 한국인, বাংলা
Skills you will Learn:
Prepare your fibers in a way that makes the layout process simple, fast, and fun
Use a felting bertha ball as a resist, and effectively build up a seamless backpack structure from inside-out
Embellish the backpack with simple, yet effective fibers and methods that add interest as a continuous outer design
Incorporate a front outside pocket, and a deep interior pocket
Embed backpack hardware into the wool layout to create durable attachment points
Create and perfectly position a flap to cover and close the backpack opening
Discover Natasha's time-tested methods and materials for felting with a ball resist
Felt and attach a strong strap that allows the backpack to instantly convert into a purse or cross-body bag
Incorporate a turn-lock style clasp to close the backpack flap, and look at other possible closure options
BONUS!
* A fun vocabulary lesson on the British terms Natasha shares throughout the course
Included in this course
24/7, 365 Instant access to the course streamed directly to your computer, tablet or phone
High quality video instruction divided into short, digestible lessons
Learn at your own pace and refer back to lessons at any time
Complete materials list with links to recommended supplies
BFF Creations!
---
Meet the Instructor: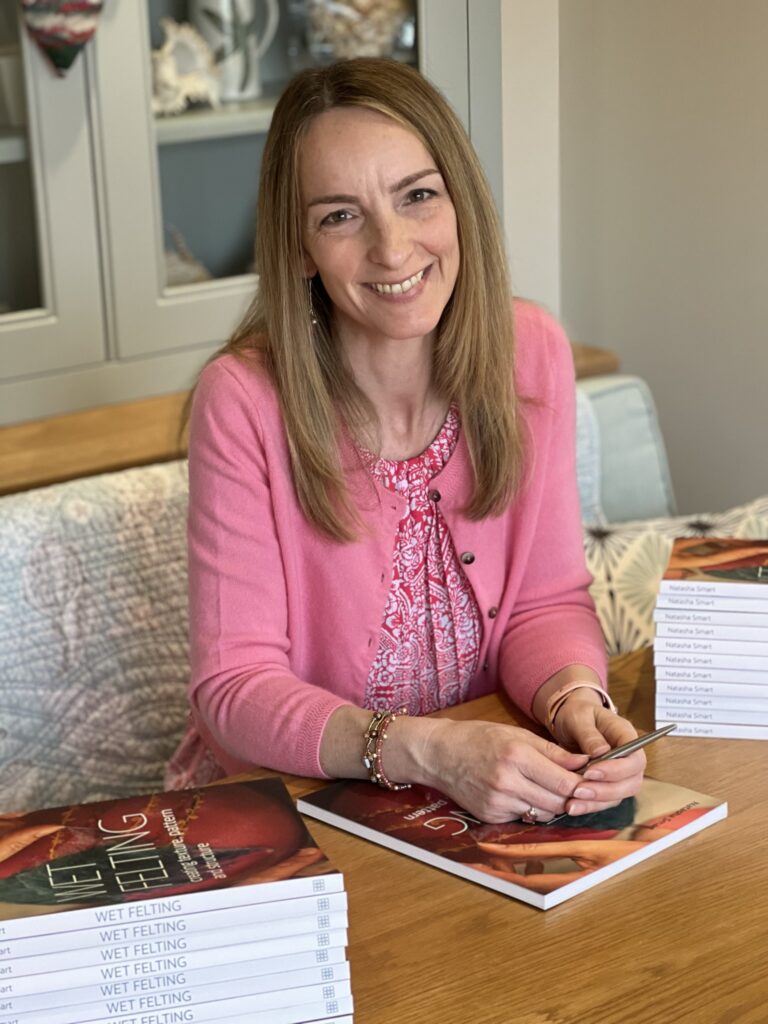 Natasha Smart
Natasha Smart is a full-time felting artist and educator who has been wet felting since 2005. She specializes in the felting on a ball resist technique to create felted bags, baskets and bowls, which she regularly teaches on workshops at her studio in the seaside town of Exmouth, Devon on the UK south coast.
Natasha loves experimenting with wet felting techniques and materials to develop new projects, which has led her to create several online courses and tutorials on wet felting. She has also written over 25 magazine project articles covering felting and textile craft, including for the International Feltmakers Association (IFA) magazine Felt Matters in September 2022. Her first book, Wet Felting, which covers all aspects of wet felting, from flat felting to working with both two and three-dimensional resists, was published in April 2022.
Sharing the magic of wet felting has become a real passion for Natasha and she regularly shares videos and photos of her workshops and wet felted pieces on her social media accounts, where you can find more inspiration for your own creations.
Natasha's Website: https://natashasmarttextiles.co.uk
Instagram: https://www.instagram.com/natashasmarttextiles
Facebook: https://www.facebook.com/NatashaSmartTextiles
YouTube: https://youtube.com/c/NatashaSmartTextiles
TikTok: https://www.tiktok.com/@natashasmarttextiles