---
Needle Felt a Realistic Dog:
Long Hair German Shepherd
– Needle felting a realistic dog sculpture
with a distinctive pattern and long fur –
with Eszter Baba
Course Outline
Class Chat
Getting Started: Info & Resources
Building and Wrapping Armature
Building Up Bulk
Shaping the Legs
Shaping the Head Area
Shaping the Paws
Shaping and Assembling the Muzzle
Sculpting the Nose and Nails
Shaping the Face, Ears, and Eyes
Creating Facial Fur
Creating Body Fur
Making the Tail
Finishing Touches
Interview and Book Viewing
Get Your Certificate!
Enroll Today!
Needle Felt Dog – Long Hair German Shepherd
MEMBER PRICING
About this Course
Skills Focus: Needle Felting
Video Lessons: Videos are divided in to easy to digest & easy to reference segments
Difficulty Level: Intermediate – Advanced
Helpful Experience to Have: Sculptural needle felting over an armature
Course Length: This course is equivalent to a 3-day in person workshop
Have a ball making this advanced realistic dog sculpture with a long fur, a distinctive pattern, and true to life anatomy.
Video Lessons: Videos are divided in to easy to digest & easy to reference segments
Audio: Recorded in English
Closed Captions: English, Deutsch, Español, Español (México), Français, Italiano, Nederlands, Polski, Português, Português (Brasil), Magyar, Pусский, اللغة العربية, हिन्दी, 中文, 日本, 한국인, বাংলা
Skills you will Learn:
How to firmly needle felt the realistic anatomy of a dog in a standing position
How to use a full armature to create a strong and semi-posable felt sculpture
How to hand blend wool fibers and apply a coat of long fur to the dog's body
How to felt with accurate proportions to reflect the realistic anatomy of a long-haired dog
How to expertly detail the dog's face, muzzle, and ears
How to detail the legs, feet, paws, and paw pads
How to create a fluffy long-haired dog tail
How to make a realistic dog nose and nails out of clay
How to use glass eyes and needle felting details to create an expressive face for your realistic dog sculpture
How to use the reverse-needle felting technique on the dog legs to make them furry and realistic
BONUS!
* A look at Eszter Baba's Book, Inkarno
Included in this course
24/7, 365 Instant access to the course streamed directly to your computer, tablet or phone
High quality video instruction divided into short, digestible lessons
Learn at your own pace and refer back to lessons at any time
Complete materials list with links to recommended supplies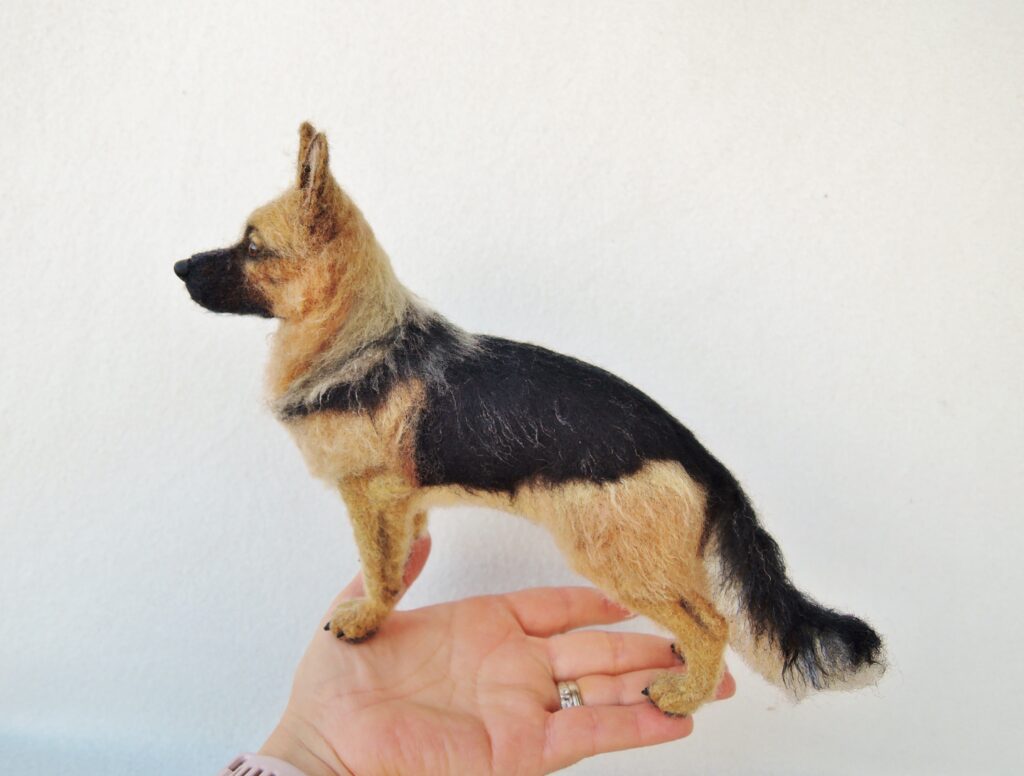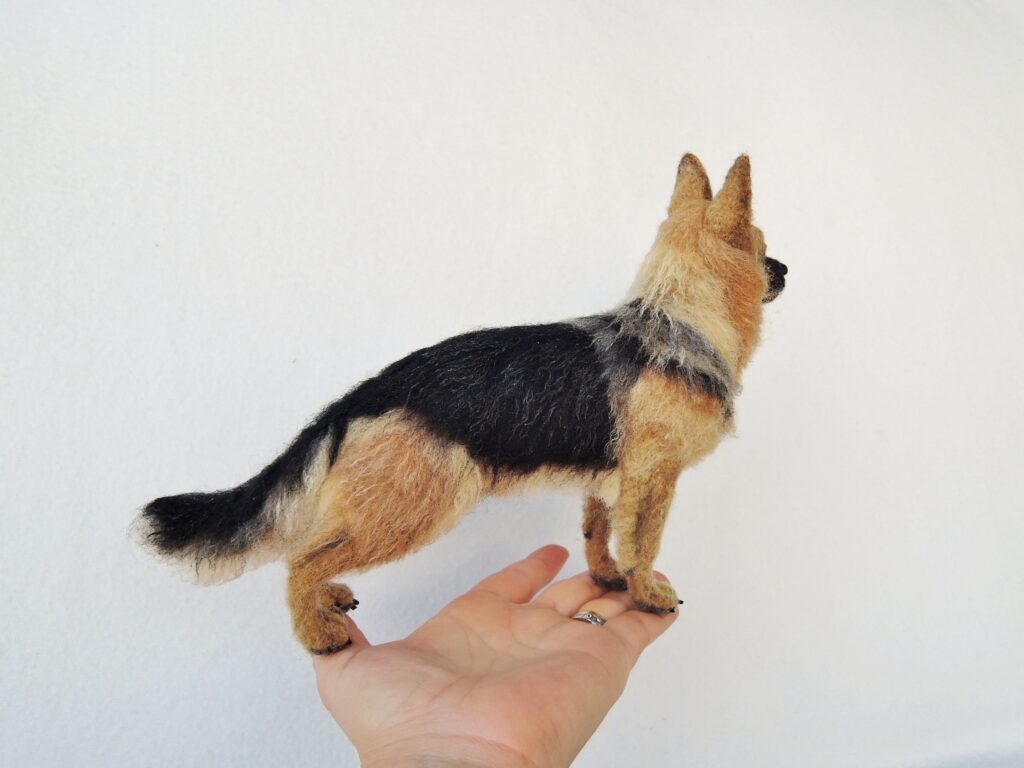 Meet the Instructor: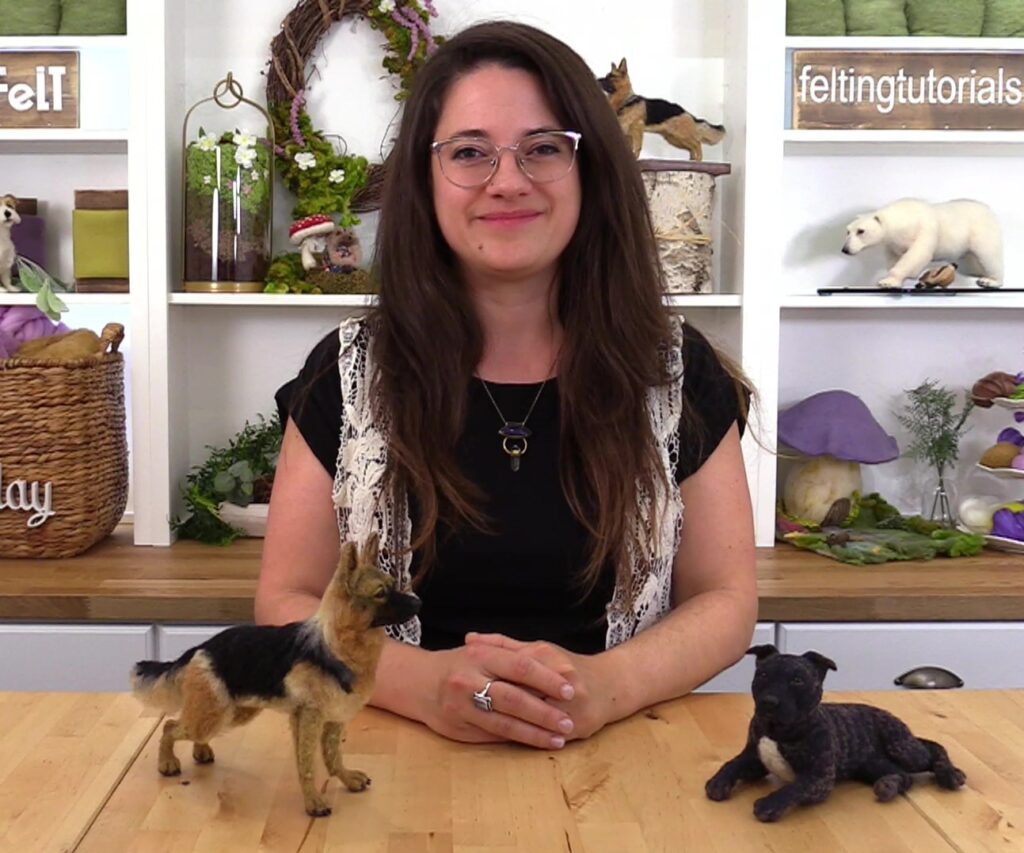 Eszter Baba
Eszter Baba is an award-winning felt artist from Budapest, Hungary. She discovered needle felting in 2015, when maternity leave gave her an opportunity to start a new craft. Eszter started with cartoon character sculptures, and quickly discovered her skill for creating realistic animal sculptures. She has always been a dog-lover, and has gravitated towards dogs as her main focus in her felt sculpture art.
Eszter has always enjoyed various art forms, including drawing and portraiture. In the realm of felting, she is primarily self-taught.
In Hungary, where the art of needle felting is not very well known, Eszter works to share the art and knowledge of needle felting with her community and country. She hosts popular workshops where her students can create their own beloved dog sculptures or other realistic animals.
Her work, under the name Inkarno, has been published, and broadcast on television. You can view more of Eszter's felt creations on Instagram @Inkarno_Art, on Facebook, or check out her Etsy Shop!