Hi ! Thank you for enrolling in Blossom with Kimberly Pulli!

You can view the course supplies list here: Blossom

Shop from the recommended supplies page at Living Felt!
Shop the Supplies Page
Blossom

– Felt a Stunning Portrait using Line, Shape, and Color –
with Kimberly Pulli
Course Outline
Class Chat
Getting Started and Resources
Background Layout
Blossom Layout
Wet Felting
Image Transfer and Blocking
Needle Felting Blossom
Finishing
Get Your Certificate!
Enroll Now!
Blossom
SALE
sale ends January 1, 2024
MEMBER PRICING
About this Course
Skills Focus: Wet Felting, Nuno Felting, Needle Felting
Difficulty Level: Intermediate – Advanced
Helpful Experience to Have: Intro to needle felting, basic wet felting
Course Length: This course is equivalent to a 3-day in person workshop
A Masterclass in felt portraiture, this course blends all forms of felting – Nuno, Wet, and Needle Felting. Join her as she details the process of color experimentation, and develop techniques that will take your 2D felting skills to the next level!
Video Lessons: Videos are divided in to easy to digest & easy to reference segments that are available 24/7
Audio: Recorded in English
Closed Captions: English, Deutsch, Español, Español (México), Français, Italiano, Nederlands, Polski, Português, Português (Brasil), Magyar, Pусский, اللغة العربية, हिन्दी, 中文, 日本, 한국인, বাংলা
Skills you will Learn:
How to use wet, nuno, and needle felting to achieve a dynamic felt portrait of your subject
How to layout fiber to prepare a strong canvas with clean edge lines
How to layer wool and silks to create a dynamic background
How to incorporate luster fiber embellishments and textural elements to bring color and variety to your felt portrait
How to use color effectively to demonstrate light, shadow, line, and shape to form a stunning portrait
How to draw and transfer an image of the face of your subject
How to needle felt in layers of color to create visual interest, realistic depth, and convey realism of your portrait
How to make realistic and colorful flowers
How to give your felt portrait a professional finish
BONUS!
* Kimberly's shares her masterful art theory education throughout every step in creating Blossom
Included in this course
24/7, 365 Instant access to the course streamed directly to your computer, tablet or phone
High quality video instruction divided into short, digestible lessons
Learn at your own pace and refer back to lessons at any time
Complete materials list with links to recommended supplies
BFF Creations!
Meet the Instructor: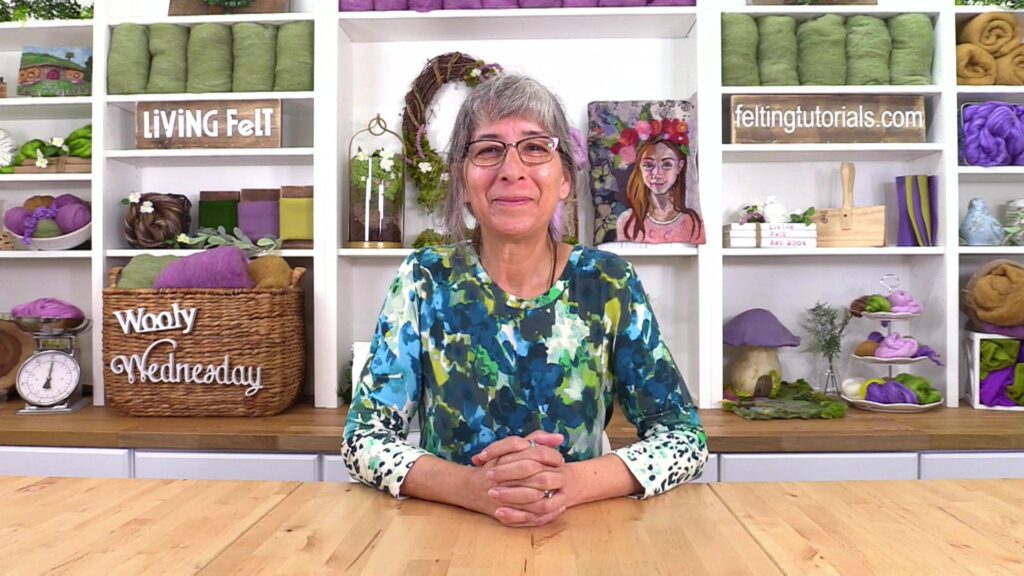 Kimberly Pulli
Kimberly has an artistic background, having studied art and painting at the University of Florida. She has done oil painting in the past, and expertly uses art theory in her paintings, both oil and felt. Artistry has been in her family for generations.
Kimberly first discovered felting in 2016, when she learned about the art form and found online tutorials from Marie Spaulding of Living Felt! Kimberly quickly caught the attention of Marie, who was amazed with Kimberly's felted works, and encouraged her to continue further into the felting art form.
Kimberly makes her wool portraits into purses and wall hangings, and enjoys incorporating recycled fabrics into her pieces. She expertly uses color to create depth and shadow to give realism to her portraits, and enjoys layering textural elements into her pieces.
Kimberly's work has been published in Fiber Arts Now, Felt Matters, and had her work displayed in the Hunterdon Museum in New Jersey. She is a member of the International Felt-Makers Association, where her work has been published in their magazine as well.
You can follow Kimberly's felting journey on Instagram @Pullis_Woolies.