Whimsical Mushroom Hat
– Wet Felting a Whimsical Mushroom Hat over a Resist –
with Kate Koprowski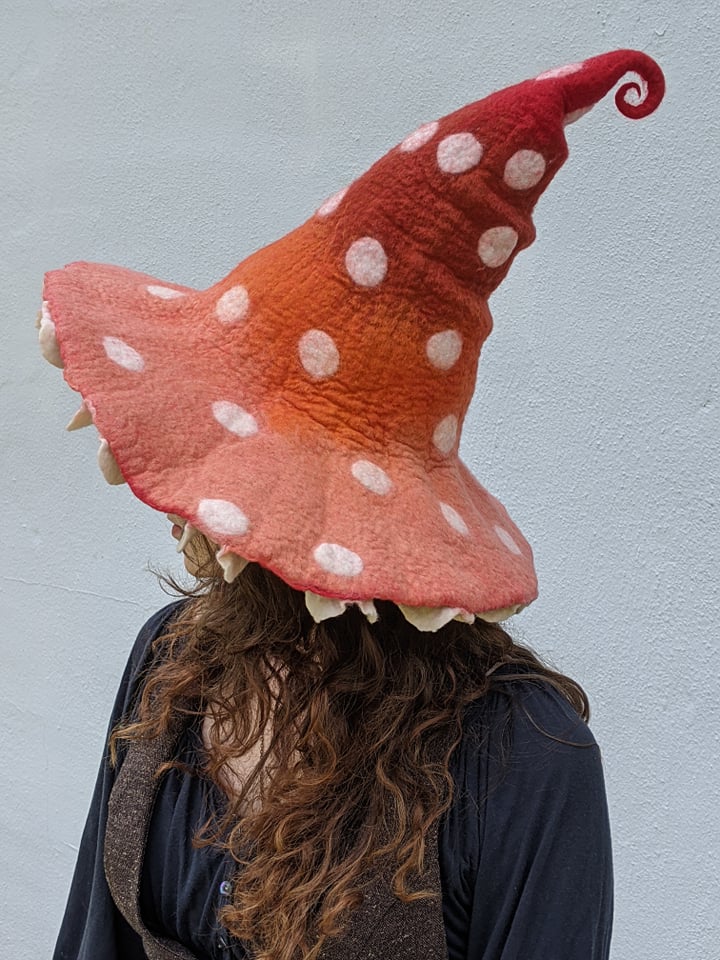 Course Outline
CLASS CHAT
Getting Started: Info & Resources
Felting the Hat
Creating the Gills
Fulling
Blocking and Stiffening the Hat
Wrapping Up
Certificate of Completion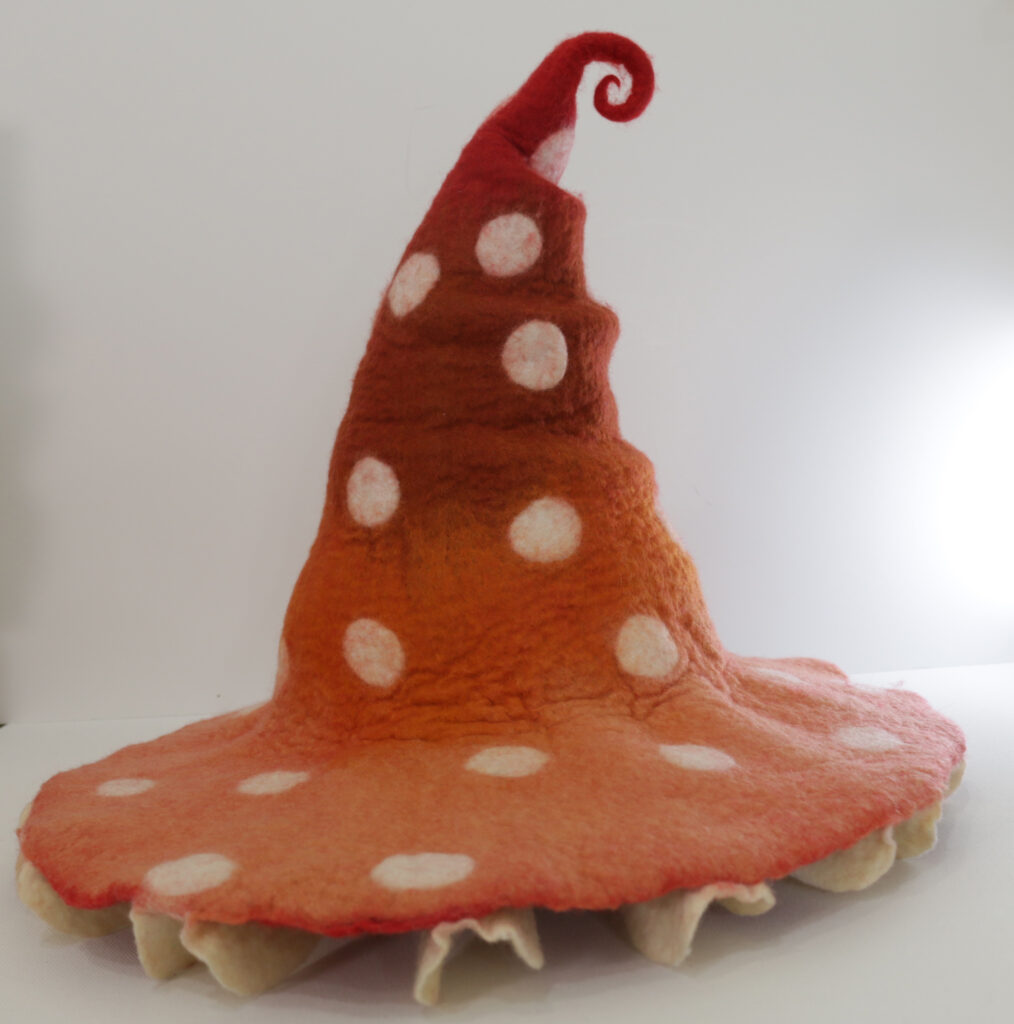 About this Course
Skills Focus: Wet felting over a resist, blocking
Video Lessons: Videos are divided in to easy to digest & easy to reference segments
Difficulty Level: Intermediate / Advanced
Helpful Experience to Have: Wet felting over a resist
Course Length: This course is equivalent to a 2-day in person workshop
Felt yourself a truly Magical Mushroom hat in this step by step course with the master herself!
Skills you will Learn:
Kate's preference for what fibers to use and
how much to use for her Whimsical Mushroom Hat
Ombre color layout
Creating perfect polka dots
Wet felting over a resist
Wet felting with a sander
You can also felt by hand
Felting a pointy, curly tip that holds its shape!
Creating an impressive hat brim that really stands out!
How to create these fantastic mushroom gills
How to stiffen your hat for durability and shape
How to block and shape your hat for impressive results
BONUS!
*Kate's Super Secret Formula to stiffen and block
your hat while also making it moisture resistant

Included in this course:
24/7, 365 Instant access to the course streamed directly to your computer, tablet or phone
High quality video instruction divided into short, digestible lessons
Learn at your own pace and refer back to lessons at any time
Complete materials list with links to recommended supplies
Meet the Instructor: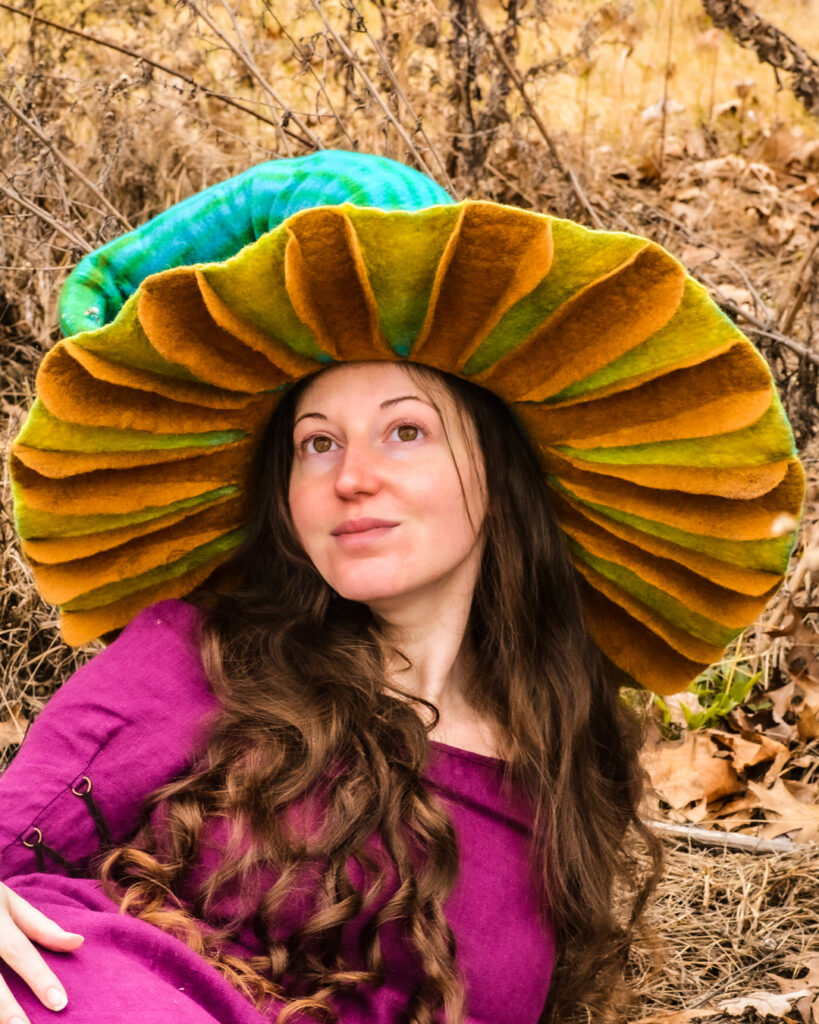 Kate Koprowski
Based in central Kentucky, fiber artist Kathrine Koprowski is best known for her work of fantasy-inspired witch hats.
The day I discovered wet felting was the beginning of a journey, and it was only a matter of time before I combined this new medium with my reinvigorated interest in fantasy art.
Some noteworthy places my work has been featured in the past few years are an article on Buzzfeed in 2017 and in Faerie Magazine's "Things We Love" article in that same year. In 2018 my work was featured on the front cover of issue 60 of Filzfun, a German felting magazine and in that same issue I was interviewed for their Artist's Portrait portion of the magazine. ​​
​I made a few "normal" hats before making my very first witch hat. It would be unrecognizable today as my style, with just a few wrinkles and some embellishments. At that point it was really more of an experiment and I was actually a little self-conscious of it.
I just couldn't stop myself from making another one, and then another one, not necessarily because I even wanted to sell them but just because I loved the hats so much! I'm glad I stuck with it.