Sunrise / Sunset Landscape
– Wet Felting a Landscape with
Needle Felted and Stitched Elements –
with Anna Repke
Course Outline
CLASS CHAT
Getting Started: Info & Resources
Creating Merino Blends
Base Layout
Wet Felting
Needle Felting
Machine Stitching
Stitching the Foreground
Wrapping Up
Certificate of Completion
About this Course
Skills Focus: Wet felting, Needle felting, Top stitching, Image transfer
Video Lessons: Videos are divided in to easy to digest & easy to reference segments
Difficulty Level: Intermediate / Advanced
Helpful Experience to Have: Wet felting, needle felting
Course Length: This course is equivalent to a 3-day in person workshop
Felt a stunning landscape picture with gorgeous water reflections in this fun and inspiring class!
Skills you will Learn:
Fiber selections for felting a picture using both wet and needle felting techniques
How to blend colors to create a vivid and lively landscape using your hands, hand carders and a drum carder
How to layout your fibers and build the picture from the background forward
How to create the illusion of the setting sun with colorful clouds
Exactly how to create the reflections of the land and sky in the water
How to wet felt your picture to prevent distortion
What your picture should look like after it is wet felted
How to add details with needle felting
How to add details with machine top stitching
How to create an amazing tree just like this one!
Sunset-Sunrise Felt Landscape Online Workshop
MEMBER PRICING
Included in this course:
24/7, 365 Instant access to the course streamed directly to your computer, tablet or phone
High quality video instruction divided into short, digestible lessons
Learn at your own pace and refer back to lessons at any time
Complete materials list with links to recommended supplies
BONUS!
Get Anna's Color Blending Recipe for this landscape as a PDF Download!
BONUS!
Make a flawless tree with this pattern and technique

Community Creations!
Meet the Instructor: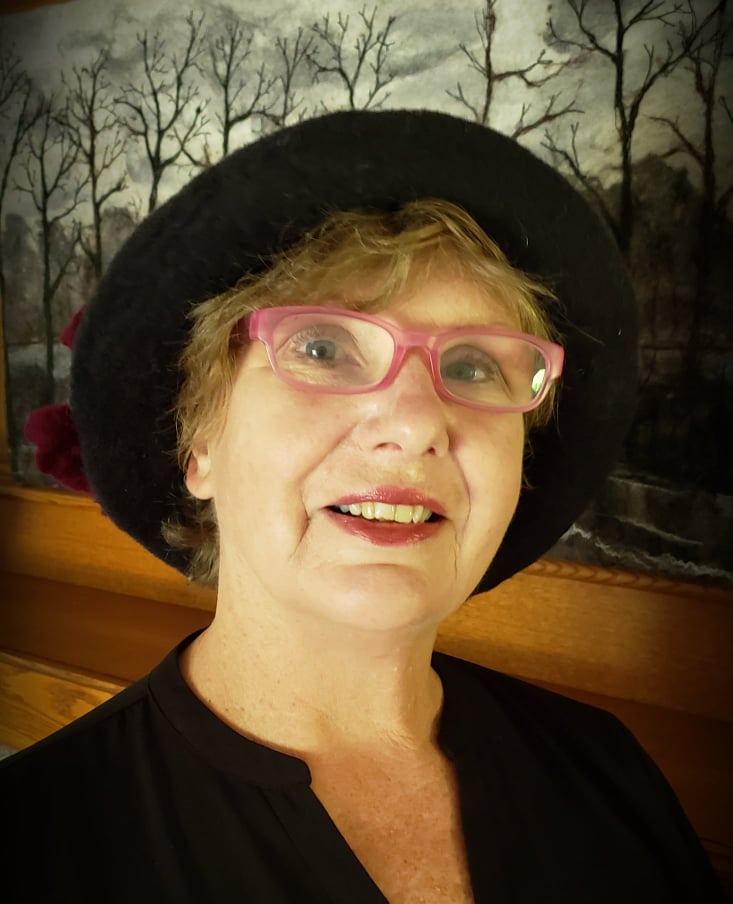 Anna Repke
When I walk through the woods and see the light playing on the leaves and see how the greens have a zillion shades, when that moss reflects all those colors with their little airy faces . . . my soul just sighs with the beauty, it squeezes my heart and brings me to such a deep contentment and inner peace. I am in wonder of creation's beauty and it takes me away from the every day stress and norms.
When people see my work for the first time . . they are in wonder of how it was put together, the depth, the colors, the tiny details .. the reflection of creation's beauty. They can touch it and FEEL the texture and then the picture is more than a flat surface. I feel like I can bring some of that awe into their four walls, making it a place of inspiration and call it their home.
Before I made felted pieces, I did all kinds of other paintings, such as, oil, acrylic, water colors and anything I could get my hands on in order to release that inner drive to create!!
Then one day I just quit. It was too frustrating to paint and take care of 10 children, train dogs, and keep up the farm and house. (and later, I figured out the oil fumes were making me crazy)
Years later, I sold a trained Border Collie to a fiber artist, Gale, (to help with herding her sheep) who in turn, trained me to make a purse from wool. I wondered if I could add colored wool during the processes of making a purse in order to create a picture on it. I gave it a shot. It turned out so well, someone wanted to buy it.
I was hesitant to turn this into a business wondering if other people would be as interested, but the purses kept selling and I kept working at it!
Then one day someone said, "This is too pretty to use, I'm just going to hang it on my wall!"
DING, DING! The lights went off and that settled it for me! I set out to make most extraordinary, brilliant wall hangings, for the distinguished art collector.