Woodsy Vessel
– Creating a Beautifully Textured
3D Vessel from a Flat Resist –
with Dawn Edwards
Course Outline
Class Chat
Getting Started: Info & Resources
Wool Layout
Embellish the Vessel Bottom
Embellishment Preparations
Embellish the Vessel Top
Wet Felting
Finishing the Vessel
Wrapping Up
Get Your Certificate!
Community Creations!
Enroll Now!
About this Course
Skills Focus: Wet Felting a 3D Vessel with inclusions and embellishments inspired by nature
Difficulty Level: Beginner – Intermediate
Helpful Experience to Have: Wet Felting over a Resist
Create a Beautifully Textured, Nature-Inspired 3D Vessel from a Flat Resist
Video Lessons: Videos are divided in to easy to digest & easy to reference segments that are available 24/7
Audio: Recorded in English
Closed Captions: English, Deutsch, Español, Español (México), Français, Italiano, Nederlands, Polski, Português, Português (Brasil), Pусский, اللغة العربية, हिन्दी, 中文, 日本, 한국인, বাংলা
Skills you will Learn:
Using a coarse fiber in wet felting
Wool layout techniques for success and strong vessels
Wet felting over a closed resist
Use prefelts to create fun baubles, spikes, ruffles, and more!
Create a variety of nature-inspired embellishments that complement your wool color palette
Learn methods for making felt inclusions that will "open up" to reveal textural elements in the vessel
Discover Dawn's tips and tricks for using nature to guide her vessel creation
Develop your wet felting, rolling, and fulling skills
Shape a vessel into a desired shape
BONUS!
* Multiple Resist Templates for vessels of different sizes!
Included in this course:
24/7, 365 Instant access to the course streamed directly to your computer, tablet or phone
High quality video instruction divided into short, digestible lessons
Learn at your own pace and refer back to lessons at any time
Complete materials list with links to recommended supplies
Meet the Instructor: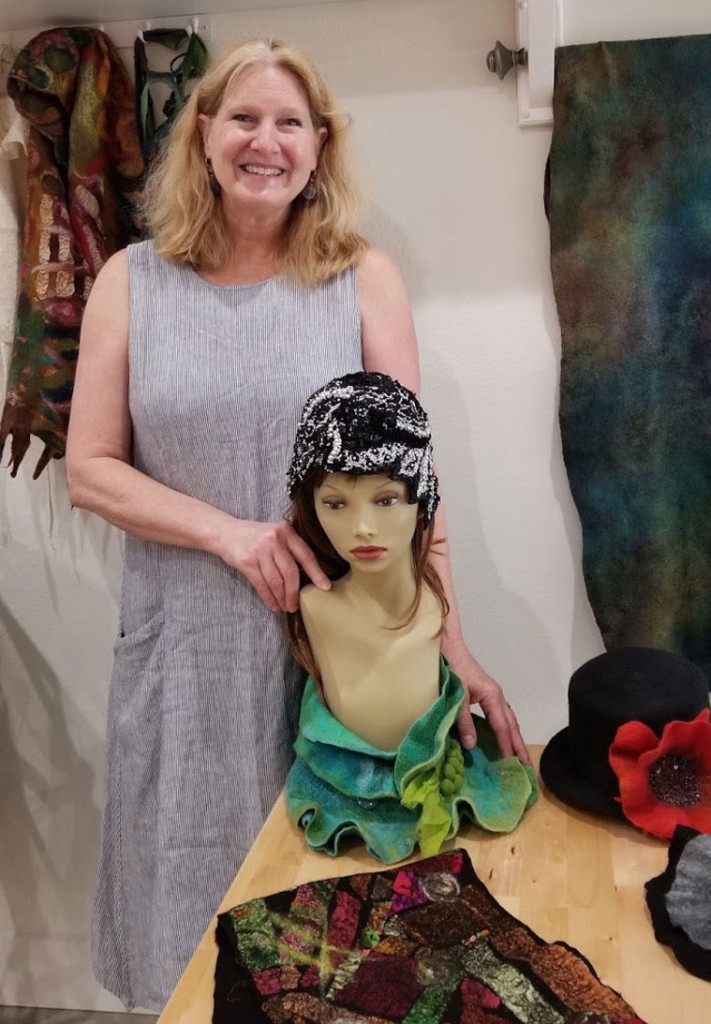 Dawn Edwards
Dawn Edwards is a felt artist and tutor based in Plainwell, Michigan USA. She sells her work under the label 'Felt So Right' and teaches extensively within the USA and internationally. Her felt art has appeared in numerous exhibitions, shows, magazines and books. Dawn also is the co-coordinator of the not-for-profit group, 'Felt United', which currently has over 7,000 members.
Dawn's love of color, texture, and beauty in everyday life, have led to artistic expression through many creative endeavors including stained glass and pottery, and finally to a medium where she is able to incorporate many of those techniques into her felt-making. You may see some of the wonderful textural and sculptural images found in pottery, or the beautiful color ways noted in stained glass. Most recently, Dawn's 'Blue Coral' felt hat was was chosen to appear in the 2019 'Felt Fiber Transformed' issue of Fiber Art Now magazine.