Singing Girls
– Felt a beautiful doll with an expressive face! –
with Jun Yamaguchi
For English Captions: Click the CC Button in the bottom right of the video menu, and select "English CC".
Course Outline
Class Chat
Getting Started: Info & Resources
Needle Felt the Head, Face, and Mouth
Needle Felt the Arms and Legs
Needle Felt the Body
Needle Felt the Hair
Make the Clothing
Wrapping Up
Instructor Interview
Get Your Certificate!
Enroll Now!
About this Course
Skills Focus: Needle Felting
Difficulty Level: Intermediate / Advanced
Helpful Experience to Have: Intro to needle felting, basic wet felting
Course Length: This course is equivalent to a 3-day in person workshop
Language: Jun teaches this course in Japanese.
Captions are provided in English by clicking the CC button and selecting English.
Written guides in English are also available for every lesson, located below each video.
Create a needle felted doll that is elegantly dressed and looks like she is singing out loud!
Video Lessons: Videos are divided in to easy to digest & easy to reference segments that are available 24/7
Audio: Recorded in Japanese
Closed Captions: English, Deutsch, Español, Español (México), Français, Italiano, Nederlands, Polski, Português, Português (Brasil), Magyar, Pусский, اللغة العربية, हिन्दी, 中文, 日本, 한국인, বাংলা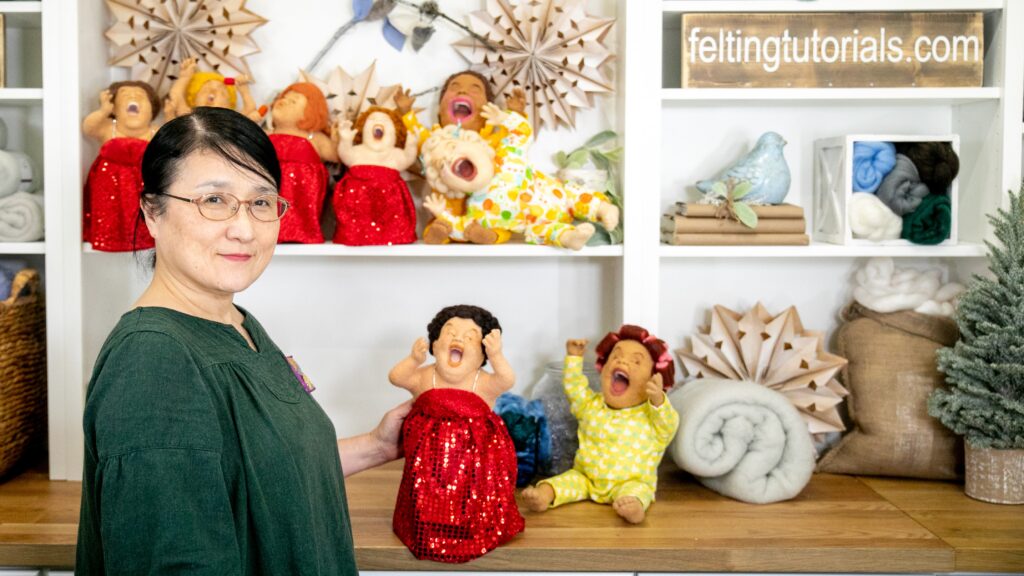 Skills you will Learn:
Discover Jun's unique needle felting style and methods. Jun uses techniques that are uncommon, but give stunning results.
How to shape an open, singing mouth, and detail the teeth and tongue
How to build up, color, and detail a beautiful face around the singing mouth of the doll
How to felt expressive eyes, eyebrows, lips, and cheeks
How to use a simple method to achieve gorgeous curly hair
How to build the torso, hands, arms, and legs that are all posed to perfection
How to needle felt a smooth finish for the doll's skin
How to sew a lovely dress for your Singing Girl's big debut!
Included in this course
24/7, 365 Instant access to the course streamed directly to your computer, tablet or phone
High quality video instruction divided into short, digestible lessons
Learn at your own pace and refer back to lessons at any time
Complete materials list with links to recommended supplies
BFF Creations!
Made by Candie Hornberger

Made by Susan Koutnik

Made by Donna Mundinger

Made by Lisa Horgan

Made by Kelly Abbott

Made by Frankie Shepherd-Smith

Made by Terrie Mclaughlin

Made by Leanne Leong

Made by Shana Neuman

Made by Becky Rice

Made by Phoebe Cronan

Made by Brenda Nelson

Made by Edwina Wood

Made by Monica Drewry
Meet the Instructor: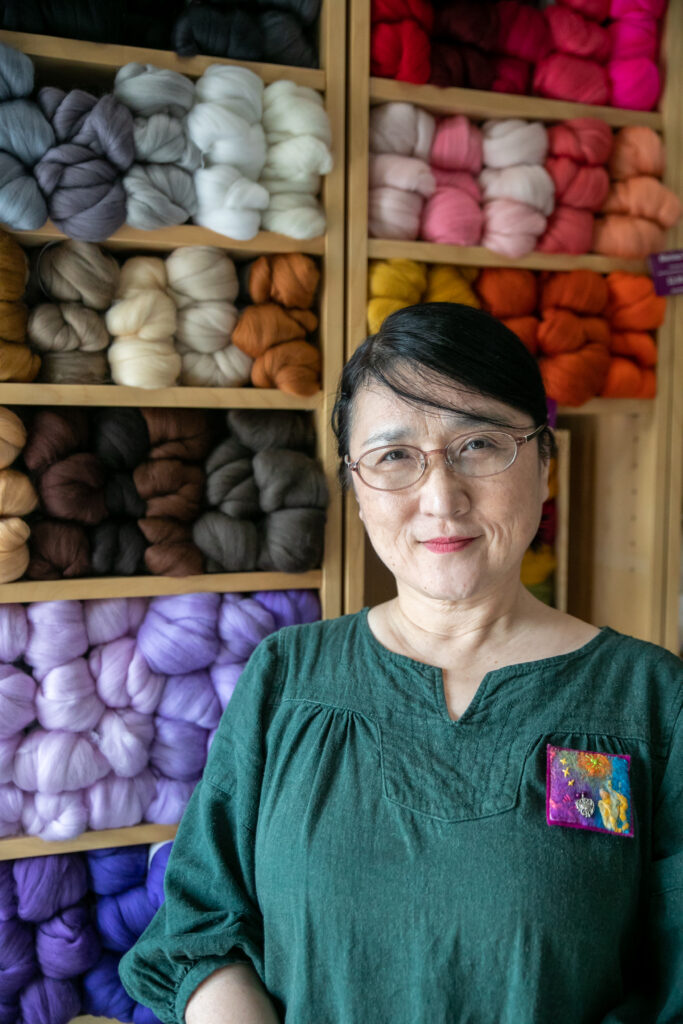 Jun Yamaguchi
Jun Yamaguchi is from Osaka, Japan. She has always loved crafting, and has a background in painting, knitting, embroidery, clay sculpture, and sewing.
Jun first discovered felting at a handicraft store in Japan, where she was immediately drawn to that art of needle felting. She started her felting journey by needle felting small portrait dolls, and felting animal sculptures such as dogs and orangutans. She is mainly self-taught in the art of felting, and has developed distinctive techniques that yield beautiful results in her felted works.
Jun first made her signature Singing Girl Doll for a multi-medium art contest in Japan, where she earned bronze out of the whole competition. Jun enjoys seeing her Singing Girls and other dolls come to life, and bring happiness and laughter to others.
You can follow Jun's felting journey on Instagram @jun_yamaguchi77