Bright and Beautiful Macaws
– Wet Felting a Picture "In the Wet" –
with Sonja Oswalt
Course Outline
Class Chat
Getting Started: Info & Resources
Prefelt Preparations
Background Canvas
Leaves and Branches
Layout Macaws "In the Wet"
Wet Felting
Needle Felting Details
Bonus: Red Macaw
Wrapping Up
Instructor Interview
Get Your Certificate!
Enroll Now!
Bright & Beautiful Macaws
MEMBER PRICING
About this Course
Skills Focus: Wet Felting, Needle Felting
Difficulty Level: Beginner / Intermediate
Helpful Experience to Have: Intro to needle felting, Basic wet felting
Course Length: This course is equivalent to a 2-day in person workshop
Felt a beautiful tropical scene "In the Wet" with bright macaws and lovely background leaves.
Video Lessons: Videos are divided in to easy to digest & easy to reference segments that are available 24/7
Audio: Recorded in English
Closed Captions: English, Deutsch, Español, Español (México), Français, Italiano, Nederlands, Polski, Português, Português (Brasil), Magyar, Pусский, اللغة العربية, हिन्दी, 中文, 日本, 한국인, বাংলা
Skills you will Learn:
How to choose your fibers for either the Blue or Red Macaw, and the background
How to lay out a strong canvas base
How to quickly make your own prefelt
How to consider light, shadow, and depth in laying out your scene
How to easily blend fiber colors by hand
Two methods for making background leaves to choose from, or combine for a varied effect
How to use simple shapes to lay out the Blue Macaws, using Sonja's method "In the Wet"
How to give the Blue Macaws lifelike characteristics in both the wet felting and needle felting steps
How to effectively use color to create highlights, lowlights, and shadow
How to wet felt with a sander *(Optional)
How to manage fiber migration and get clean, sharp lines to separate the Macaws from the background
How to needle felt incredible details that give the Macaws their signature facial patterns and striking eyes
How to mat and frame your finished piece
BONUS!
* An in-depth look at how to create the face of the Red Macaw
Included in this course
24/7, 365 Instant access to the course streamed directly to your computer, tablet or phone
High quality video instruction divided into short, digestible lessons
Learn at your own pace and refer back to lessons at any time
Complete materials list with links to recommended supplies
BFF Creations!
Meet the Instructor: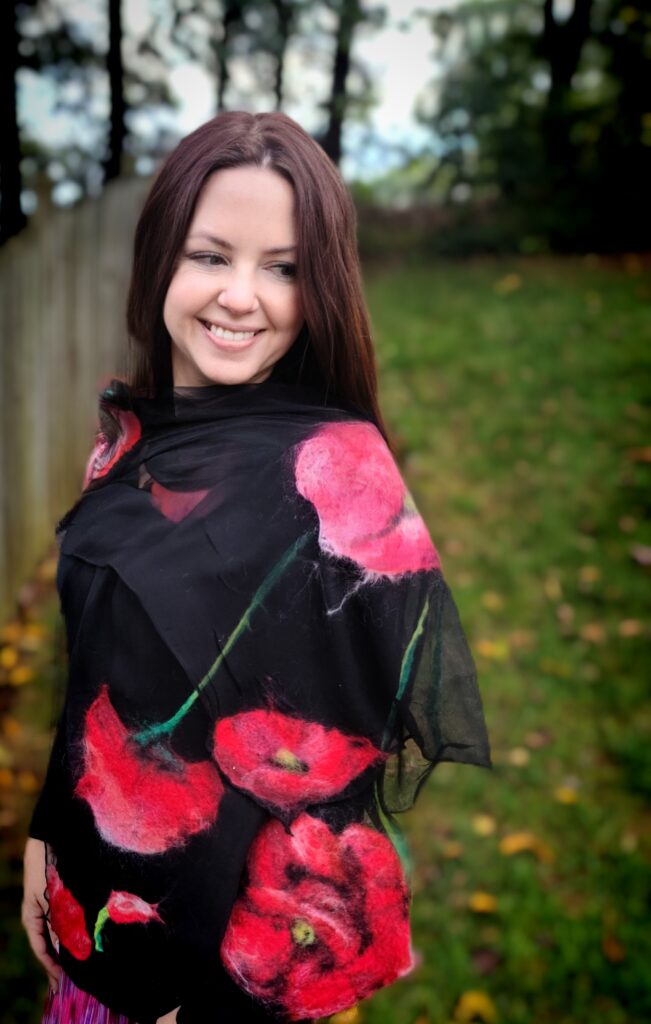 Sonja Oswalt
Sonja Oswalt has been felting since 2012, starting with 3D sculptures of dogs, which she still enjoys making today.
Sonja's parents were both artists, and fostered Sonja's love for art throughout her upbringing. Sonja has a Masters degree in Wildlife and Fishery Science, and incorporates her love of nature into her felt artwork. Much of her art incorporates fantasy and whimsical themes, and she loves to experiment with new methods and techniques in her felted works.
Sonja enjoys challenging herself to work with a variety of multi-dimensional felting projects. She enjoys creating felted textiles, hats, and purses, 3D sculptures of animals and fantasy creatures, as well as 2D landscapes and portraits. Sonja is mostly self-taught, though she has participated in workshops with renowned felt-makers worldwide, including courses here on FeltingTutorials.com! Sonja works on commission, and her work can be found on Etsy, as Baad Hatter Felt Hats and Fiber Arts.