Busy Christmas Elves
– Needle Felt Festive Elf Figurines! –
with Kimberly Czar
Course Outline
Class Chat
Getting Started: Info & Resources
Prepare the Base and Make the Legs
Needle Felt the Hips and Torso
Make the Arms
Needle Felt the Neck and Sew the Vest
Needle Felt the Head and Face
Make the Hat and Attach the Head
Cookie Elf Props
Gift Elf Props
Bonus: Elf Variations
Wrapping Up
Instructor Interview
Get Your Certificate!
About this Course
Skills Focus: Needle Felting, Fine Crafting
Difficulty Level: Beginner / Intermediate
Helpful Experience to Have: Basic needle felting
Course Length: This course is equivalent to a 3-day in person workshop
Create two fabulous felt figurines that are displaying their festive props and adorable expressions!
Video Lessons: Videos are divided in to easy to digest & easy to reference segments that are available 24/7
Audio: Recorded in English
Closed Captions: English, Deutsch, Español, Español (México), Français, Italiano, Nederlands, Polski, Português, Português (Brasil), Magyar, Pусский, اللغة العربية, हिन्दी, 中文, 日本, 한국인, বাংলা
Skills you will Learn:
How to create beautiful heirloom figurines that can be passed down through generations!
How to use wool to make fine details to give the Busy Elves adorable faces and expressions
How to make simple and stunning festive clothing to fit the Busy Elves
How to finely detail the clothing, boots, and hat of the Busy Elf
How to make a stack of wrapped gifts for your Busy Elf to hold
How to shape and decorate a tiered tray of delicious cookies for your Busy Elf
Two ways to make hands – with wool or sculpting clay
Two styles of legs – firmly planted or lifted in the air
Two options for making the eyes – with wool or glass eyes
How to prepare a strong base for your felted figurine
How to firmly attach every element together so these busy Elves stand the test of time!

BONUS!
* How to make a skirt for an elf!
Included in this course
24/7, 365 Instant access to the course streamed directly to your computer, tablet or phone
High quality video instruction divided into short, digestible lessons
Learn at your own pace and refer back to lessons at any time
Complete materials list with links to recommended supplies
Downloadable patterns and supporting documents
Busy Christmas Elves
sale ends December 1, 2022
MEMBER PRICING
Meet the Instructor: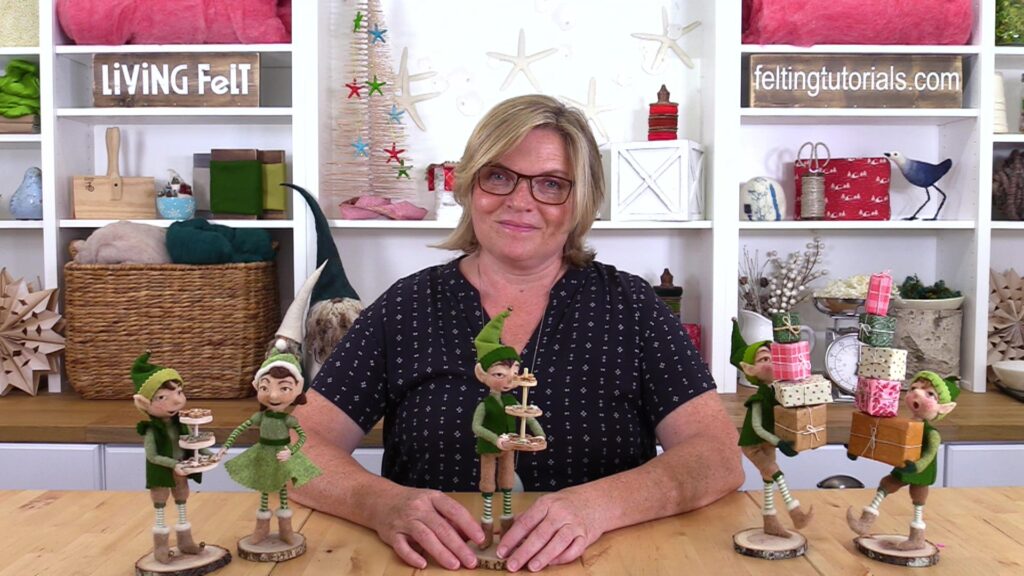 Kimberly Czar
Kimberly discovered her love for art as a child, and studied art throughout her education. Inspired by her art teachers, Harold Peterson and Patrick Eddington, Kimberly got involved in summer art workshops, and went on to study Graphic Design and Illustration at the University of Utah. While in college, Kimberly attended the Pratt Institute in Venice, Italy for a semester, where she studied art history, painting, illustration, print-making, and Venetian art techniques.
Kimberly began felting in 2011, and primarily needle felts 3D sculptures and figurines. She enjoys creating festive and holiday themed felt sculptures, incorporating a fun sense of humor into her unique figurines. Kimberly loves to include natural elements in her felt sculptures, and gives timeless expressions, details, and backstories to her creations.
Kimberly Czar lives in Amesbury, Massachusetts, where she makes felted creations as Czar Design. Follow her journey on Facebook at CzarFelts, or check out her Etsy shop CzarDesign.