Stained Glass Koi
– Nuno Felt Tapestry –
with Camy Wogu
Course Outline
CLASS CHAT
Getting Started: Info & Resources
Fiber Layout
Starting to Felt
Stained Glass Elements
Framing
Further Felting
Needle Felting
Fulling
Certificate of Completion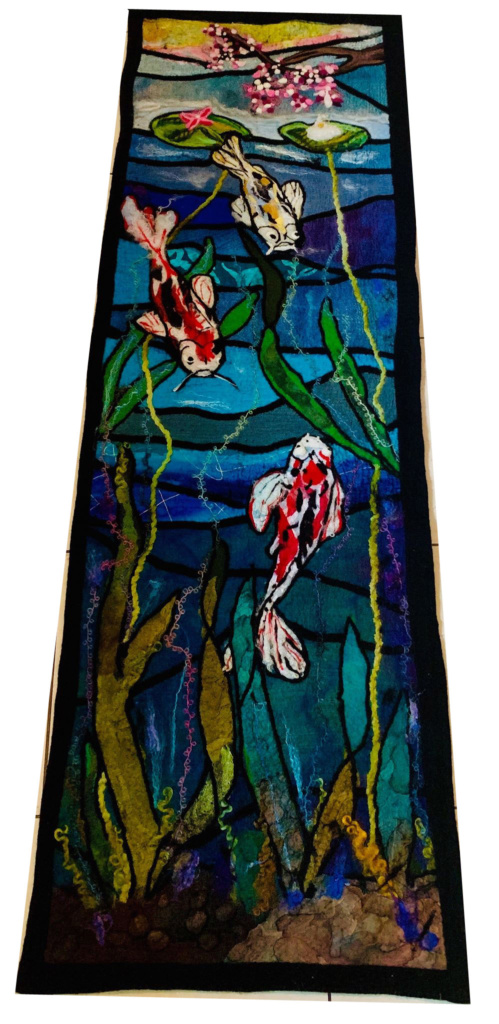 About this Course
Skills Focus: Nuno Felt, Wet Felting, a small amount of needle felting as desired/needed
Video Lessons: Videos in easy to digest & easy to reference segments
Difficulty Level: Intermediate / Advanced
Helpful experience to have: Wet felting, Nuno felting
Course Length: This course is equivalent to a 3-day in person workshop
**Supply list available after enrollment. This course will use prefelts, dyed silks that can be solid, hand dyed or thrift store finds, and Merino Tops along with other embellishment fibers and yarns.
Build a beautiful tapestry using this incredible "stained glass" nuno felt technique. Incorporate prefelt, silk fabrics, wool, yarn and other embellishments to create a unique waterscape with koi fish, lily pads, a cherry blossom branch and whatever else your heart desires. In this lesson, Camy delivers a beautiful pattern pattern that you can print or emulate. She walks you through every step for creating your own nuno felted masterpiece.You can also do a "slice" or a mini version of this project to test out these fun new skills.
Skills you will learn:
Dividing the pattern for easy layout and planning
Incorporating dyed silks and embellishments for interesting and beautiful effects
Creating the stained glass effect
Felting with an electric sander, by hand and rolling
Creating a border that frames your piece
Nuno Felt Stained Glass Koi Wall Hanging
MEMBER PRICING
Included in this course:
24/7, 365 Instant access to the course streamed directly to your computer, tablet or phone
High quality video instruction divided into short, digestible lessons
Learn at your own pace and refer back to lessons at any time
Complete materials list with links to recommended supplies
BONUS! Downloadable, easy to follow pattern template for koi pond


Community Creations!
Meet the Instructor: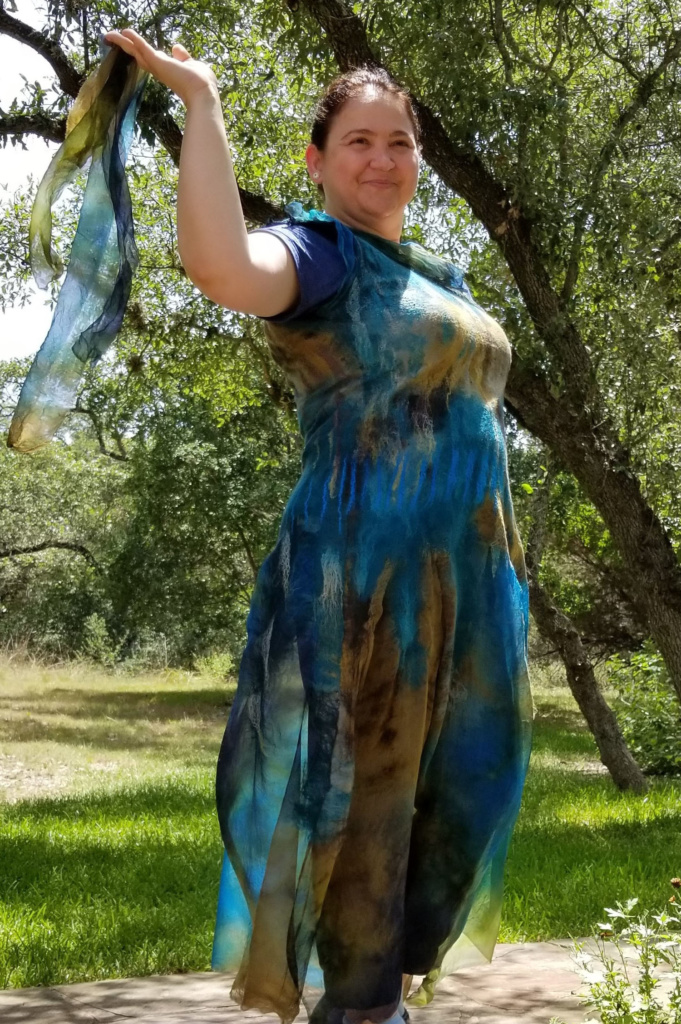 Camy Wogu
Camy Wogu is a practicing medical doctor that has fallen in love with the art of felting. She felts every free moment possible – even in the "on call" room while she is on duty.
Born in Romania, Camy moved to the United States as a young woman to spread her wings. She flies highest when she is felting, free to express herself through her creativity.
Camy has studied with many of the masters of felting to develop her skills and define her unique passions within the medium.