Nuno Felt Sunset Dress
– Nuno Felt a Custom-Fitted Dress with Optional Collar –
with Charity van der Meer
Course Outline
CLASS CHAT
Getting Started: Info & Resources
Fiber Layout
Embellishments
Felting the Front
Fiber Layout for the Back of the Dress
Felting the Back of the Dress
Fitting and Shaping the Dress
Wrap Up
Certificate of Completion
About this Course
Skills Focus: Wet Felting Over a Resist, Nuno Felt
Video Lessons: Videos are divided into easy to digest & easy to reference segments
Difficulty Level: Intermediate to Advanced
Helpful Experience to Have: Basic Wet Felting, Nuno Felting
Course Length: This course is equivalent to a 3-day in person workshop
Create a dazzling, yet sophisticated nuno felt dress from silk and wool with silk ruffles and an optional collar, over eight sections divided into step-by-step video lessons.
Skills you will learn:
Measuring the body
Drafting a pattern
Creating the template
Fiber Layout for perfect shrinkage and fit
Felting with a sander
Creating a cowl collar
Creating ruffles
Creating pleats and baubles
Nuno Felt Sunset Dress Workshop
MEMBER PRICING
Included in this course:
24/7, 365 Instant access to the course streamed directly to your computer, tablet or phone
High quality video instruction divided into short, digestible lessons
Learn at your own pace and refer back to lessons at any time
Complete materials list with links to recommended supplies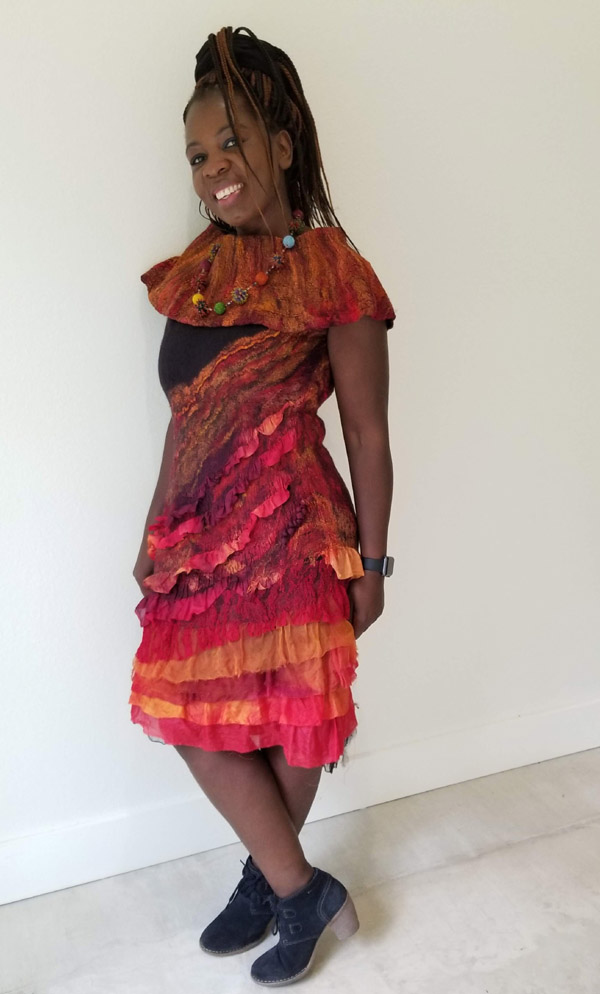 Meet the Instructor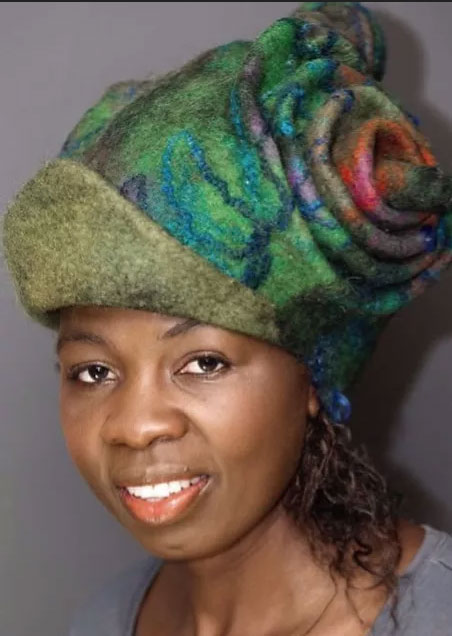 Charity van der Meer
Charity van der Meer with her label Sharit, graduated in Fashion Design and Knitwear at the Nottingham Art and Design University in 2002. She moved to the Netherlands in the same year, where she worked in fashion and design independently.
Charity believes that felt gives her a wide range of creative possibilities, which she pursues by constantly researching and experimenting with new materials and techniques using natural textiles, raw materials and organic fibers.
"Felt has given me a chance to express myself beyond the conformity of the traditional felt making and dress making. There are endless possibilities and I am constantly researching new materials and new techniques. All material I use will tell their own story through my pieces."
Her one of a kind creations are breathtaking combinations of natural fabrics, raw materials and organic fibers. Her commitment to enhance the sustainability of wool made her to create the Sharit Ethical Fashion line
Her aim is to encourage and promote the use of this highly versatile fiber, named wool, used either in knitting or felting. She loves to share her knowledge of felting – with felt being the oldest technique – it is worth passing on.