Here There Be Dragons
– Needle Felting a Dragon with Wet Felted Wings –
with Joyce Hazlerig
Course Outline
CLASS CHAT
Getting Started: Info & Resources
Building the Dragon
Wings & Wet Felting
Sculptural Details
Further Body Work
Facial Details
Felting the Belly
Felting the Tail
Dragon Topcoat
Optional Additions
Wrapping Up
Certificate of Completion
About this Course
Skills Focus: Needle Felting, Some Wet Felting
Video Lessons: Videos are divided in to easy to digest & easy to reference segments
Difficulty Level: Intermediate / Advanced
Helpful Experience to Have: Needle felting, Basic Wet Felting
Course Length: This course is equivalent to a 3-day in person workshop
Create your very own fantasy dragon from start to finish!

Skills you will Learn:
How to create dragon armature
How to create wing armature and incorporate with the body
Needle felting your dragon body, head, face, tail, legs and feet
Creating dragon "skin"
Felting poseable wings that open and close
Creating the scaled dragon chest plate
How to create interesting additions like spines and spikes
Sculpting and attaching claws and horns
Incorporating glass eyes
Needle Felt Dragon Online Workshop
SALE
sale ends May 22, 2022
MEMBER PRICING
Included in this course:
24/7, 365 Instant access to the course streamed directly to your computer, tablet or phone
High quality video instruction divided into short, digestible lessons
Learn at your own pace and refer back to lessons at any time
Complete materials list with links to recommended supplies

Join Free and start taking classes!
Membership in the school is free!
Enroll (in free membership)
Visit your Dashboard for quick links
Enroll in the class of your choice!
Community Creations!
Meet the Instructor: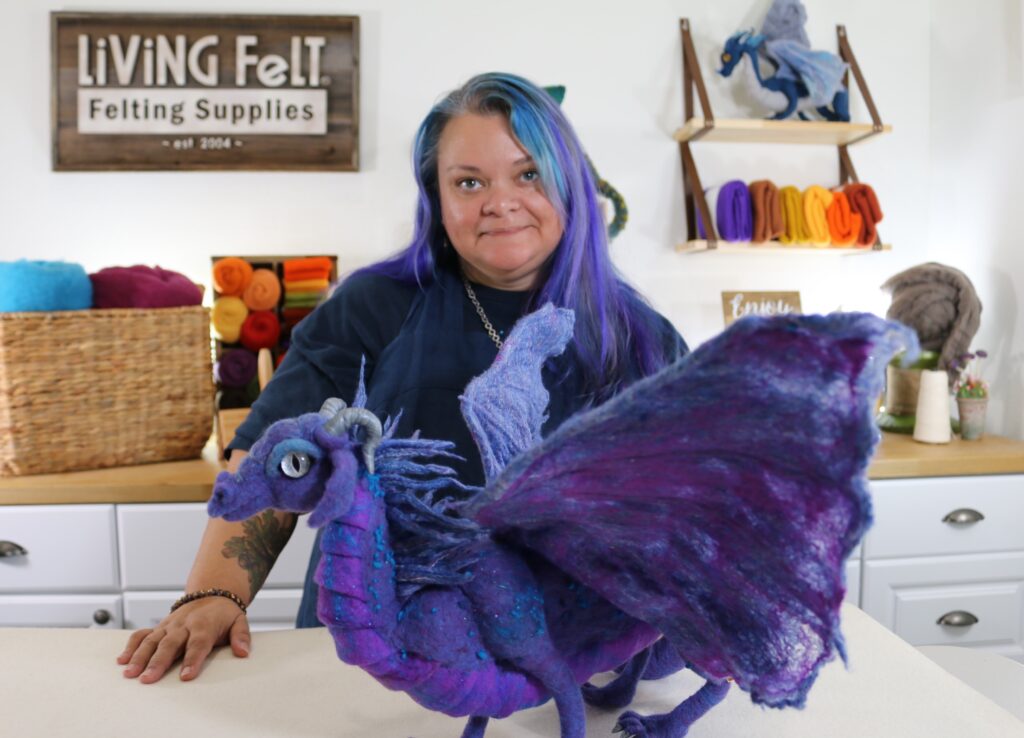 Joyce Hazlerig
Joyce has been creating art all her life. Felting wool is her current passion. There's something about wool and fiber; and shaping it to create something new and different. She loves making whimsical creatures or magical characters.

Joyce is inspired by myth, fairy tales, history and nature. She has embraced felting as a way to highlight colors, and show off the wonderful textures of wool. Her creations all have their own voice. It is wonderful to see them taking shape, morphing, changing, and coming to life. She hopes people fall in love with her work, just as she falls in love creating them.
Joyce began this journey 8 years ago; her desire is to see how far down the rabbit hole she will go. Wool is universal and ancient, it's old and new, its organic and surpasses cultural barriers. The wider world of fiber is ever expanding.